Mounting the Bonette
When the French road builders put in a seemingly pointless circular extension circumnavigating the peak above the Col de la Bonette so that it may be crowned the highest paved road in Europe, they must have been more than a little peeved to find that Spain had beaten them to it. Nonetheless undeterred, there still remains a sign at the bottom perpetrating this bold claim, and in a world of fake news, emissions conspiracies and a new rise of European nationalism, why not dabble with the statistics? In truth it doesn't really matter. With 23 kilometres of high-altitude climbing from Jausiers, it's no piece of Marie Antoinette's cake.
The road meanders ever upwards until finally the treeline retreats behind and all vegetation recedes as the granite peak of the Bonette rises above all else ahead, crowned triumphantly by its punishing ring road extension. The col itself passes through a nondescript cut in the rock before this almighty skyward U-turn, as marked by its Nice signpost. But as with anybody else riding the Alps with a support crew of none, I simply turned round to make my way back down the way I had come up, and the Mediterranean riviera would have to wait for another day.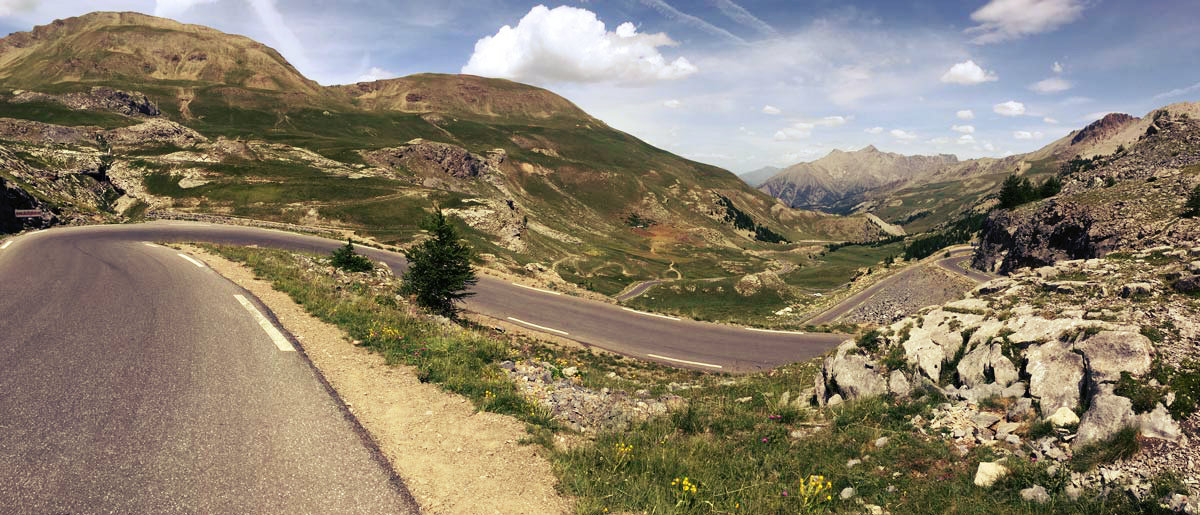 As I took this photo on my return descent, a cheerful photographer offering holiday-makers the tempting opportunity to find their great ascension immortalised as a sweating water-marked blip on a website somewhere, chatted away to me in French (!) about every subject under the sun, no doubt spurred on by my impeccably accented insistence – also in French (!) – that I couldn't understand a word she was saying.