C'est Facile
The Col de la Faucille (elevation 1323 m) is a high mountain pass in the department of Ain in the French Jura Mountains. Starting from Gex, you make a 700m altitude gain over a distance of 11.8 km, with an average gradient of 6%.
It's the new mid-life crisis for the mortgage-free millennial – buy van, quit job, travel. I had barely ridden my bike in the last six months, and was effectively starting my fitness from scratch, but on arriving in the ghost town of Mijoux I couldn't delay any further. I was in France to climb hills – a reputation I traded on, but whose powers were on the wane – and this was my first one.
The Jura Mountains had a free motorhome stopover (or "aire") in the foothills of the Col de la Faucille, the northernmost Alpine climb of my Mountain High checklist. For somebody who had spent a month's worth of London rent on solar panels, I would literally move mountains to avoid paying for a campsite. Mijoux was an off-season ski resort hibernating through the summer behind its barred windows and limp Christmas decorations. There was a small grocery shop which operated (once I had recalled my French days of the week in the correct order) twice a week, open too late to buy bread in the morning and closed too early to pick some up on my return from rides.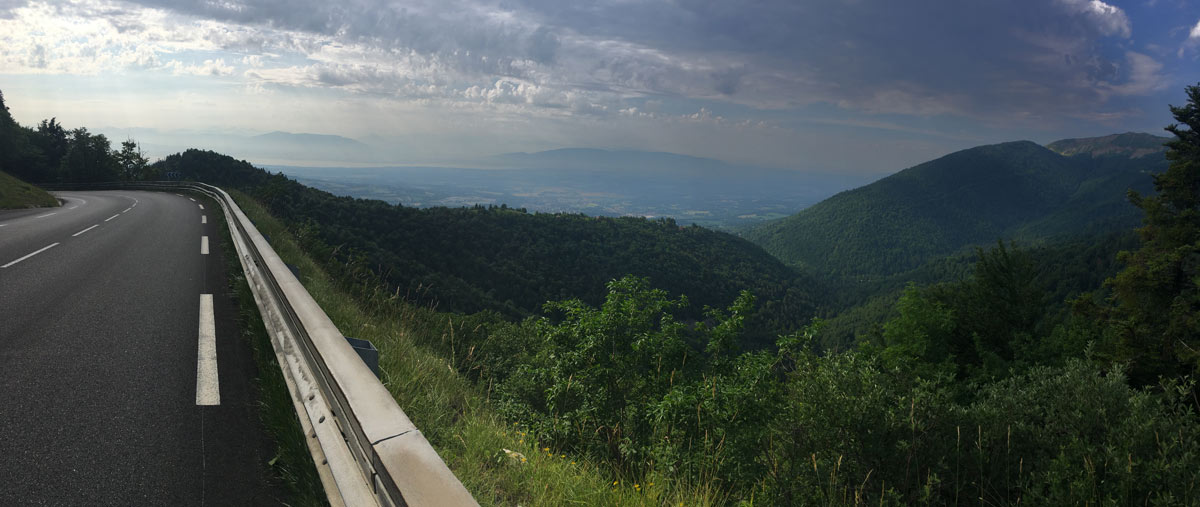 I was acclimatising myself to hill-climbing gently, but even with this relatively small height gain I had forgotten what Alpine roads were like. Hills back home can be harsh and dispiriting, but the suffering is always over soon enough. Here, it took over half an hour alone just to descend to my start line, followed by another hour or more clawing my way back up the way I had just come.
The Faucille is so named for its scythe-like appearance, but this was lost on me. All that I could take in of any topographical significance was the sight of the Mont Blanc range in the distance as I descended to Gex for the next day's ride. It was startling to comprehend what I was actually seeing with my own eyes. If there was one ride like this within four hours of London they would have to close the road at weekends. It made Box Hill feel like a quick detour to a National Trust tea room – which is essentially what it is. Yet this was going to be the easiest of them all, a mere teaser for what was to come in the following weeks. As I stopped for a triumphant Magnum at the Hotel de la Couronne, I realised it was all uphill from hereon.