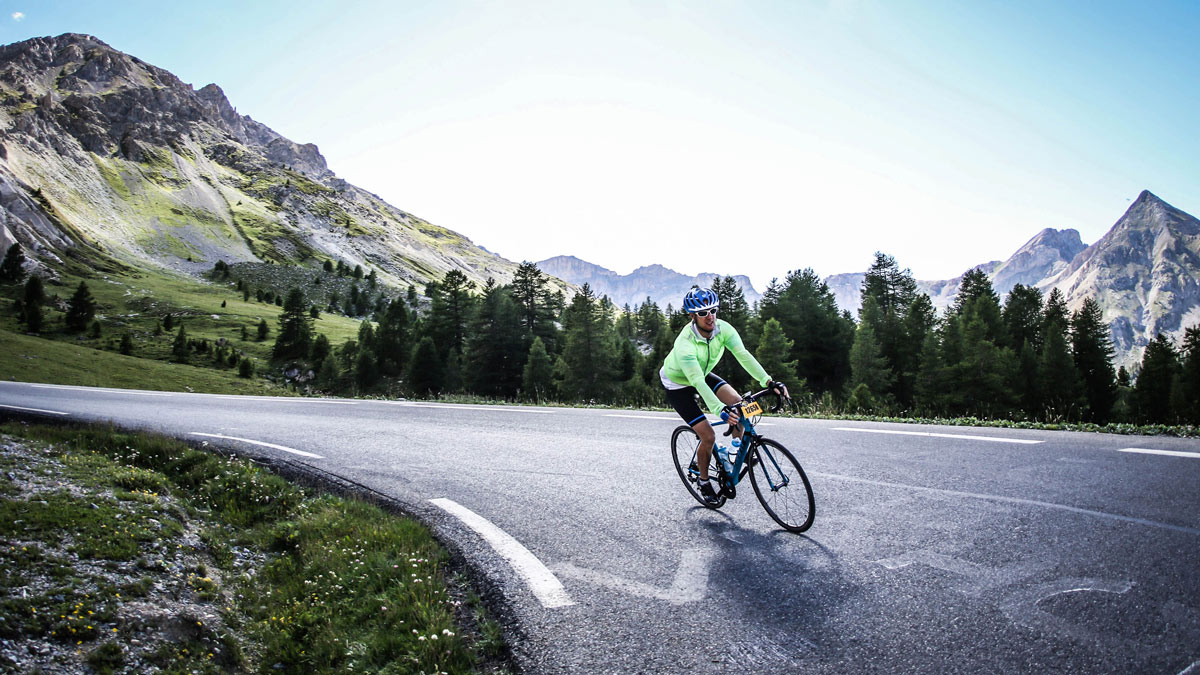 L'Etape du Tour 2017
The Etape du Tour 2017 bike race was a 181km loop starting in Briançon through the mountain passes of the French Alps, taking in the Col de Vars en route and finishing upon the summit of the Col D'Izoard, before a final descent back to the start line. It was a near exact recreation of the stage that followed four days later in the Tour de France 2017.
For somebody who had already experienced the luxury of a 2 month warm up in the Alps, only the distance – something matching the 3 Pistes Challenge I had completed on empty legs earlier that year, but hadn't done since – troubled me. What I hadn't been prepared for was the weather. So far I had been caught out by several competing elements – freezing rain in the Col de Saisies which rendered even my Castelli Gabba redundant, and the climb from Beafourt to the Cormet de Roselend where a baking hot valley slowly gave way to a snow-lined pass some lost 25 degrees centigrade later. But the day of the Etape was to be unrelentingly constant.
Waking up at altitude before the sun has even risen over the surrounding peaks of the Haute Provence Alps meant that we were creeping about in skimpy race-wear in temperatures that would make you reach for your skis. It wasn't until after a two hour wait on the start line as 15,000 cyclists were corralled into something the French might have considered order, that the sun finally rose high enough for a chink of light to warm up what extremities I could wave above the restive crowds around me. This would be the last time I would have to worry about that. Even as I automatically donned my race cape for the final ascent back down to Briançon in a yellowing afternoon sun some nine hours later, the usually icy head wind was more like cycling into a hairdryer.
Getting to the start line was no mean feat alone. An optimistic Air BnB description had failed to point out that our chalet was four kilometres up a rutted, unsurfaced track that doubled as a ski slope in the winter. We had to not only make it down that in our disintegrating hire cars, but to then park among 15,000 other likeminded individuals somewhere close to Briançon. A city only in the sense that Truro is a city. On parking, it took a while for mild-mannered Scottish Border psychiatrist Gavin's apoplexy to subside when the intelligent electric hire car locking system failed, only for it to be rekindled moments later when his new intelligent electric gearing system came apart, to be put back together again by a host of bemused mechanics at the end of a long queue in the athlete's village.
I watched all this with the quiet content of a man who typically turns up so early for a train that he will have to watch at least two to the same destination come and go, but my pride was to come before a fall. The final straw came when I switched on my fully-charged Garmin Edge 520 to find it had less than 10% battery. At least in moments of boredom in the day ahead of me, I could think up the long – and increasingly acerbic as my sanity disintegrated – review I imagined I would write on my return. I even came up with a title: Has Garmin lost its Edge? This reporter says yes.
But the ride itself was harmless for the first 80 miles. Gently undulating hills with a downhill trend passed by in a dream, and although the feeding stations generally descended into feral carnage once the last batch of sponsored energy gels gave way to bananas, I arrived in the foothills of Barcelonette with legs spinning away like pistons.
The early slopes of the Col de Vars were strewn with discarded food wrappers and estranged arm warmers that paved the way for an apocalyptic scenario of wearied, haunted and delirious figures trudging up the hills in droves, their cleated feet slipping backwards, and dismounted steeds veering dangerously across the width of the road as they staggered upward. Some had ditched everything at the side of the road and were heaving their energy bars back down the mountainside or lying prostrate on the ground, tongues lolling and legs twitching.
By the time the Col d'Izoard reared its fiery head, I too had succumbed to the heat and every heartbeat pounded out in my head. With the kilometres seemingly defying the laws of time and space to stretch out ever longer, the drinking stations seemed criminally far apart (the subject of yet more strongly worded internal letters). Salvation came in the form of a small village pump which had cyclists crowding around it like seagulls to a pasty. Only pausing to wait for a man who had fully submerged himself in the barrel beneath, I topped up both bottles and endured triumphantly to the end, to be met with a hero's welcome of sporadic spectators peering around me to spot somebody – anybody – of fractionally more interest than a red-faced Englishman with a missing arm warmer perspiring sugary pink sweat from every pore.